Mining Shows
Mining is an integral part of rural Canada, we pride ourselves in producing National Level shows at the local level. At our events our delegates and attendees mirror the communities in which they are from. This will mean that as an attendee you could be speaking to booth holders from the aboriginal community to the board levels of a mining conglomerate. Our events have a strong local focus and will put participants at the grass roots level speaking directly to people who will use your service and products.
Summary of the Big Event and N.A.M.E. North America Mining Expo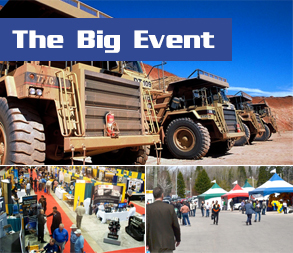 The Big Event is hosted annually in Timmins towards the end of May each year. The show will feature 400 booths highlighting technology from production to processing. Some additonal exciting features of the show include: The Miners Memorial, Conferences, Jack Leg Drilling and this year The Mining Career Awareness Program was added.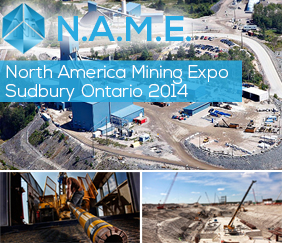 New to 2014 the North America Mining Expo will highlight WHY Sudbury is at the Center of Mining Innovation in Canada. Sudbury has a century of history as a mining centre and over a dozen mines operating within city limits. Over the past decade, the Northern Ontario city has been subtly shifting its focus from being a producer of metals to a creator of mining know-how and technology. Vale and Xstrata—serve as anchors for the cluster and collectively has contributed almost $4 billion to the local economy and employed 13,800 people.